News
7 september 2014
FANTOM IMCA WORLD CHAMPION LARGE 2014 !!!!!
Fantom made this year one of my dreams come true and became IMCA World Champion Large!
With the Dutch team, including Fantom and Mystic, we reached the 2nd place overall!


7 januari 2014
PUPPIES MYSTIC X FACE ARE BORN!!!
On 7 january 2014 Mystic gave birth to 5 beautifull puppies, 2 males and 3 bitches, all 5 in the color blue merle.

16 June 2011
OFFICIAL HD RESULT MYSTIC
Today we received the official result of the HD pictures from Mystic: HD-A, Norbergwaarde 33!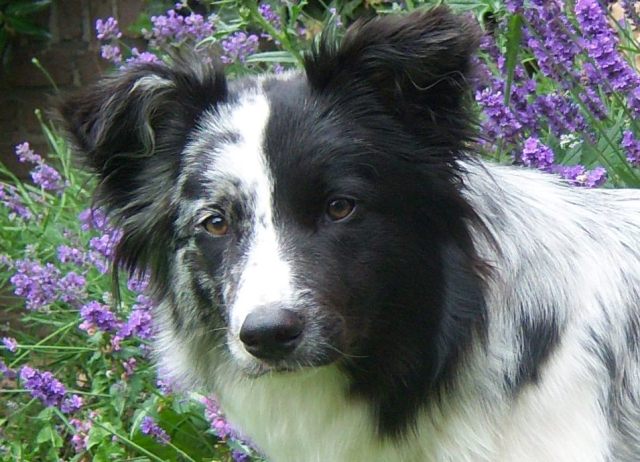 5 March 2011
COMPILATION SAISON 2010 CYANDA AND FANTOM
Click on the videos below for a compilation of the saison 2010 from Cyanda and Fantom.
5 april 2010
FANTOM GOES TO THE EUROPEAN OPEN
Today were the selections for the European Open, and Fantom gained enough points to place him himself. So we are going to Tsjechie in July. Cyanda was being a witch again today, but the last round we got the click again and she run a Clear Round, 5th place so just not enough to place herself...... For the videos, look HERE.
28 february 2010
NOYTCB1 WINNER WINTERCOMPETITION!!!!
Today Fantom and I become with team NOYTCB1 (Danielle/Kahlen, Miriam/Mika, Koos/Luke, Marjelle/Babs, Laura/Daigo) winner from the Wintercompetition!!!
For the videos, look
HERE
22 december 2009
PUPPIES ARE BORN!!!!!
Chebby gave birth to 9 beautifull puppies! So Fantom has become father again, this time from 3 black&white bitches, 2 blue merle bitches, 1 blue merle male en 3 black&white males. For more information and pictures, look HERE.
On 2 December 2009 we lost our beautifull black girl Tess. Her heart gave up, it all went very fast and unexpected. One day she was there, full of life, and the next day she was gone....
Dear Tesske, we are gonna miss you so much. You gave us so much joy and pleasure.
We will never forget you…….

Jos, Tanja, Magic, Cyanda, Fantom, Mystic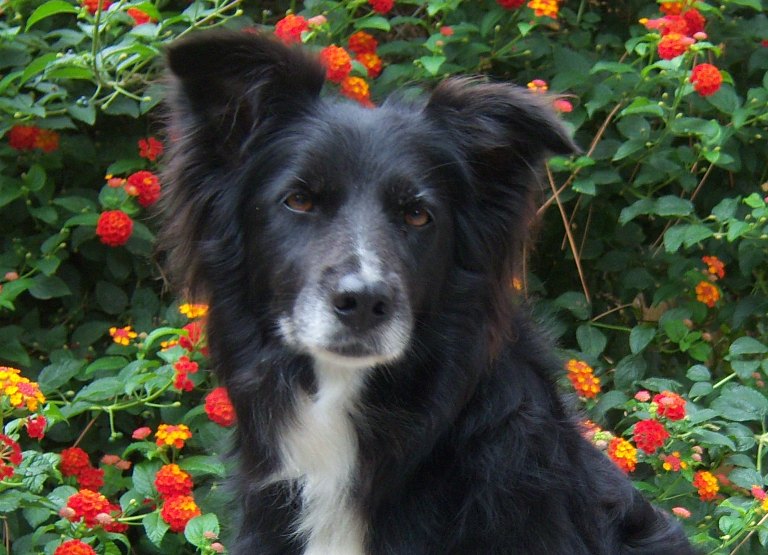 18 march 1999 – 2 december 2009
In our hearts forever…….
It was not planned.... but we fell so in love with Fantom's first daughter that we couldn't let her go..... So this little blue girl will come live with us. We have called her Mystic.
Of course Mystic will get her own page on the site, pictures of her you already can watch HERE.


22 oktober 2009
PUPPIES FANTOM X CHEBBY
Fantom has mated with Chebby, a beautifull black&white bitch. Pups are expected around 22 december. For more information, look on the Border Collie Site from Jeroen and Jessica Peperkamp.








18 oktober 2009
TESS IS LIMBURGS CHAMPION!!!!
Our Tesske became Limburgs Champion by the Seniors last Sunday. We are very proud on our black girl, with her 10 years she still loves doing agility so much. Fantom was also good and got the 5th place by the Large.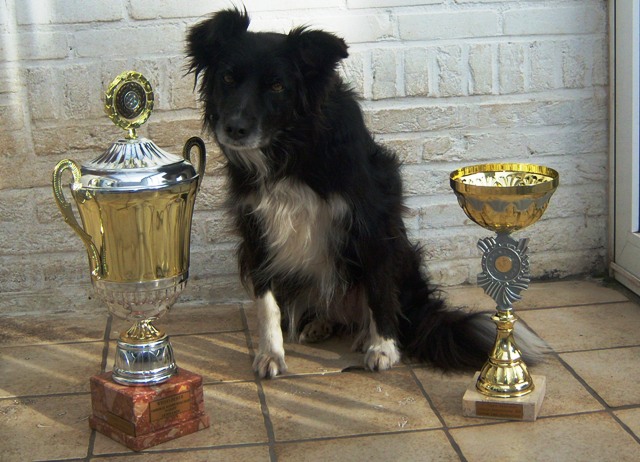 7 oktober 2009
PUPPIES ARE BORN!!!!!
Flyer gave birth to 4 beautifull puppies! So Fantom is now the proud father from 2 sons and 2 daughters! For pictures look HERE,


9 september 2009
IMCA 2009
We are home again after a great experience in Hungary. Cyanda did great with a 5th place on the individual jumping. And with the Dutch Team we reached the podium 3 times, 1st place on the agility course, 3rd place on the jumping and 3rd place overall. I'm so proud on my Brown Witch! For the videos, look HERE.
13 august 2009
PUPPIES FANTOM X FLYER
Fantom had a very nice weekend at the BC Classic in Luxemburg. Not only he run some nice agility rounds, he also had a romantic date with
Flyer
from Danielle Boshouwers. Puppies are expected round 8 oktober. For more information look
HERE
.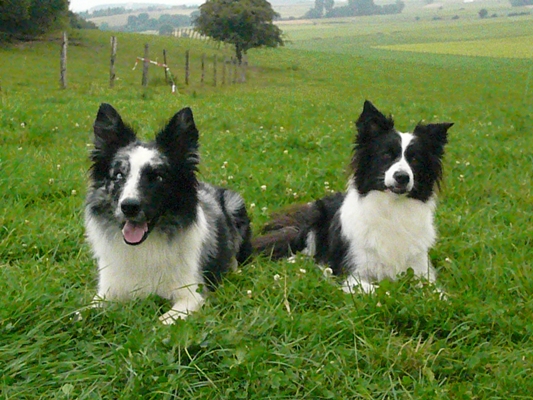 30 MAY 2009
IMCA 2009 - WE ARE GOING TO HUNGARY!!!!!
Today Cyanda and I were selected for the IMCA 2009. After 3 selections she was on the 6th place. Today after 2 rounds she climbed up to the 3rd place, and so we got a place in the IMCA team 2009. I'm very proud on my Brown Witch!
Tess and I have been to the IMCA 2004 on 28 en 29th August. For us it has been a great experience. It was the first time we went to a World Championship. For Tess it's the highest she can ever get, because she is a Bordercollie without pedigree.

On Saturday we started with the jumping. Tess did very well and we had a Clear Round. We got the 8th place, not bad with 75 competitors of which 34 Clear Rounds. On Sunday was the Agility Course. It was not a round Tess liked, with a lot of sharp turns and very technical. But she did very well. Only I made a mistake, I was too fast in a turn and did'nt wait for her. So she threw down the fence. That was a pity, if we would have a Clear Round again, we would have the 3rd place, as well on this round as overall. Now we ended on the 15th place on this round, and on the 13th place overall. But I was still very proud of my black girl, it was a good result for the first time on a World Championship and we learned a lot. Next year we are going to try to qualify again!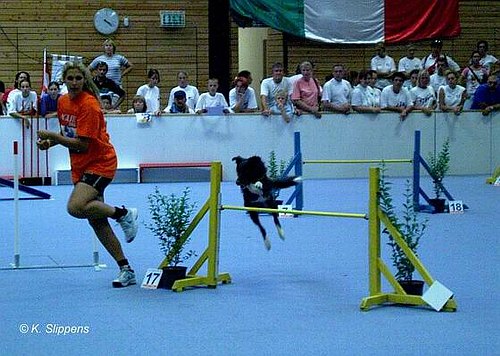 Tess and I on the IMCA 2004
(picture made by Katja Slippens)

Click here for:

The results of IMCA 2004
More pictures of the IMCA 2004




May 2004
TESS AND I GO TO THE IMCA!
On Sunday 23 May was the last selection for the IMCA, the World Championship Agility for dogs with and without pedigree.

Tess was after 3 selections on the 13nd place. Magic was 23rd so she didn't make any chance anymore.
After a game we started with the Agility course. Magic was very fast but had 2 mistakes. Tess did very well and ran a Clear Round. She ended on the 5th place. After this she was on the 5th place in the competition. Now it was getting excited then there would be sent 15 dogs to the IMCA, 5 large, 5 medium and 5 small.

After another game we started with the jumping. Magic did very wel this time, she was fast and made no mistakes. She ended on the 3rd place. Tess was also good but made a wide turn somewhere, so she didn't have a very good time. She ended on the 11th place. I thought now my changes had gone but she still went up one place in the competition and ended on the fourth place!

So now Tess and I are going to the IMCA! I'm very proud on my clever girl!



More information about the IMCA

The IMCA (International Mixbreed Championship in Agility) started in 2000 while people were not happy that dogs without pedigree were banned from the World Championships, organised by FCI.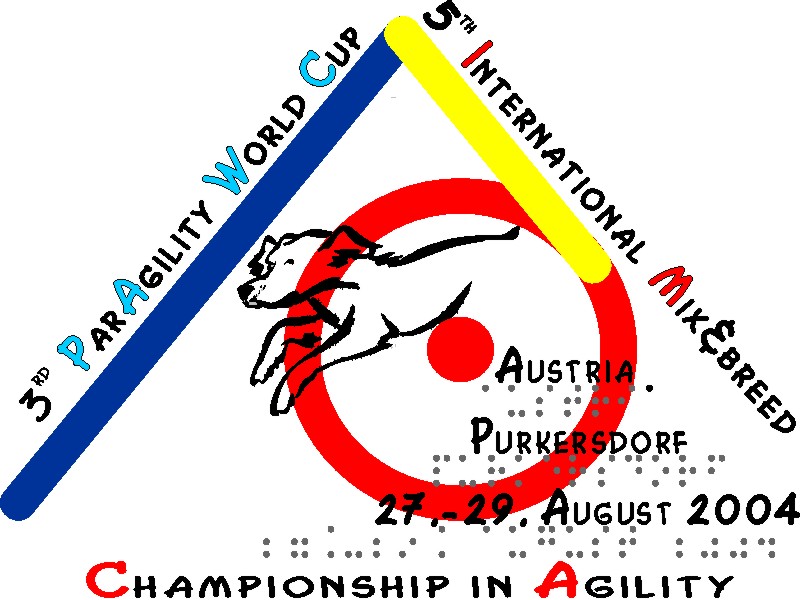 Go to the following sites for more information:


http://home.zonnet.nl/imca-info/

http://members.aon.at/imcapara2004/